The art of Vincent Fantauzzo in our hotel
The award-winning art of Vincent Fantauzzo sets the backdrop for Crystalbrook Vincent, a 5-star Brisbane hotel with original works and over 500 giclee prints on display.
The man, the artist
Vincent Fantauzzo is known as one of Australia's most prominent artists and photographers, having won the Archibald People's Choice Award more than any other artist.
Fantauzzo grew up in Melbourne, where his childhood was marred by learning difficulties, leading him to drop out of school. He managed to enrol in RMIT under false pretences, and it is here that he was finally diagnosed with dyslexia.
Despite these challenges, Fantauzzo graduated with a Bachelor of Fine Arts in Painting, completing his Masters in Fine Arts and later winning a residency at St. Vincent's Hospital.
"Every time I paint a portrait, it's a collaboration, there is a moment when something lights up - you feel it going through your body."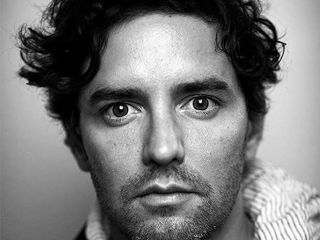 He is also known for his paintings of famous Australian faces, the likes of which include Heath Ledger, indigenous Australian actor Brandon Walters, chef Matt Moran, former Prime Minister Julia Gillard, and actress and Fantauzzo's wife, Asher Keddie.
The Australian painter has achieved international acclaim with works exhibited across the globe — in New York, Los Angeles, Hong Kong, Vietnam, and India. But one of his most significant collaborations was with the launch of a hotel in Brisbane, Crystalbrook Vincent, formerly known as The Fantauzzo.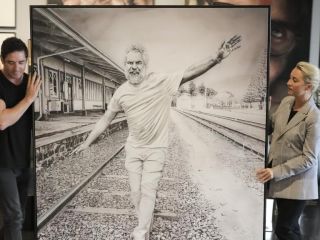 Art at Crystalbrook Vincent Hotel
With its geometric exterior, design-inspired interiors, and sustainable amenities — Crystalbrook Vincent is a visual masterpiece and undeniably one of the most unique Brisbane hotel getaways. The hotel is moody and minimal, but what sets it apart is undoubtedly the art of Vincent Fantauzzo.
The 5-star hotel is home to 500 original artworks and giclee prints, in-room art channels and event and dining spaces that showcase the incredible art of Fantauzzo.
Stay amongst the art of Vincent Fantauzzo
Crystalbrook Vincent is perfect for art and design enthusiasts and travellers searching for a unique Brisbane hotel stay. Visitors to the hotel can not only immerse themselves in the art of Vincent Fantauzzo but enjoy a luxurious hotel stay with 5-star amenities in a prime Brisbane location.
The location
The Fantauzzo inspired hotel is located on the riverside of Brisbane's trendy Howard Smith Wharves precinct, overlooking the historic Story Bridge.
The hotel, carved into the cliff under the bridge, is ideally situated near the bustling Howard Smith Wharves entertainment area, the serene botanical gardens, and the city itself.
The rooms
The six-storey hotel is home to 166 contemporary rooms and suites, all infused with Vincent Fantauzzo art.
Rooms are stylishly furnished with elegant design elements and modern amenities, including fast WIFI, STAYCAST for video streaming, an in-room tablet control centre, 55" HD Smart TV with complimentary movies, and a Nespresso machine with recyclable pods.
The penthouse is home to the two-bedroom River Luxe Suite with a large balcony overlooking Brisbane River and the Howard Smith Wharves precinct. The suite has a dining area with bridge views, a separate lounge, a fully equipped kitchen and is complete with plush king beds and, of course, a dazzling display of Fantauzzo artworks.
Whilst stylishly appointed, the rooms are also environmentally friendly — free of single-use plastic, with upcycled furnishings and fittings and 100% waste-free bathrooms
The amenities
Aside from Fantauzzo's art, another hotel highlight is Fiume — a glamorous rooftop terrace with an outdoor bar and stunning infinity pool. With sweeping views of the river and bridge, a menu of Italian-inspired bar snacks, boutique wines, craft beers and locally sourced liqueurs — Fiume offers the perfect taste of Brisbane nightlife.
Situated at the base of Crystalbrook Vincent, Mews is heating up Brisbane's Howard Smith Wharves precinct with a playful culinary experience, hyper-local sustainable produce, and a unique, laneway-inspired menu, set amongst a collection of local street artists.
The events
Crystalbrook Vincent also offers three meeting and event spaces and can host up to 200 guests. The sophisticated spaces are adorned with Vincent Fantauzzo giclee prints, fitted with state-of-the-art audio-visual equipment, and provide the perfect setting for any function.