Tropical Islands Getaways Close to Cairns
The Best Tropical Islands Near Cairns
Aussies rejoice. There's no need to travel halfway across the globe when a tropical island paradise is right on our doorstep, on the coast of Far North Queensland. With over 600 tropical islands from the Southern Great Barrier Reef to the very tip of Cape York, this strip of pristine coast is a must for those longing for a great escape.
Nestled in the crystalline waters of the Coral Sea are an array of castaway islands, palm-fringed coves and untouched cays ready to be discovered. Whether you are in pursuit of adventure or relaxation, our round-up of tropical islands near Cairns will have you sunbathing and snorkelling in no time.
Fitzroy Island
Undoubtedly one of the more well-known Great Barrier islands is Fitzroy Island. A lush island paradise the size of New York's Central Park, Fitzroy Island is home to beautiful rainforest trails, a historic lighthouse, Turtle Rehabilitation Centre, and Nudey Beach, 2018 winner of the number one beach in Australia. But please pack your swimmers, it's not to be confused with an actual nudist beach.
Credit to: Tourism and Events Queensland
How to get from Cairns to Fitzroy Island?
The island is located a mere 45 minutes and 38km from Cairns. The Fitzroy Island Flyer Ferry Service offers a quick roundtrip from Cairns, with multiple transfers available each day.
Can I stay on Fitzroy Island?
Fitzroy Island is perfect for half or full-day adventures. Visitors can choose to camp or book a stay at Fitzroy Island Resort for a relaxing island getaway.
Is it safe to swim at Fitzroy Island?
Fitzroy Island is a popular swimming and snorkelling spot with beautiful coral and marine life circling the island.
Green Island
Another famous Great Barrier Reef island is Green Island — an idyllic island located 27km northeast of Cairns, offering the very best of island life with a tranquil rainforest setting rich with flora and fauna encased by golden beaches. The 6000-year-old coral cay surrounded by crystal clear waters is a snorkeller and scuba divers paradise and the perfect base for a day of Coral Sea adventure and activities.
Credit to: Tourism and Events Queensland
How much does it cost to go to Green Island from Cairns?
Hop on the Green Island ferry with Great Adventures, with multiple daily departures from Cairns. Choose from a half-day or full-day excursion with prices starting at $88 for adults, $44 for kids or $220 for the whole family. Like Fitzroy Island, Green Island is located just 45 minutes from Cairns.
Can I stay on Green Island?
Yes, visitors can stay overnight or enjoy an island getaway at 4.5 star Green Island Resort. The eco-certified resort is the perfect place to stay and play, take a tour of the outer reef or indulge in some luxury resort relaxation.
Are there crocodiles on Green Island?
Yes! But not to worry, as they are kept safely enclosed at Marineland Melanesia—home to over 50 crocodiles, including Cassius, the world's largest crocodile in captivity. A top attraction on the island, Marineland Melanesia is also known for its collection of incredible marine life and tribal carvings.
Is Fitzroy or Green Island better?
Whilst impossible to choose, Fitzroy Island is a bit more mountainous and has more ground to cover if you are looking for a little extra exploration. And Green Island's resort offers a slightly more luxurious experience for those looking for some eco-conscious R&R in the height of paradise
Frankland Islands
The Frankland Islands are a small cluster of uninhabited islands—Normanby, Russell, Round, High and Mabel. One of the Coral Sea's best kept secrets; the islands are perfect for a tranquil day out away from the crowds. The islands offer the ideal mix of rockpools, rainforests, reefs and sandy beaches, with an impressive array of marine wildlife from giant clams and sea stars to green sea turtles and manta rays.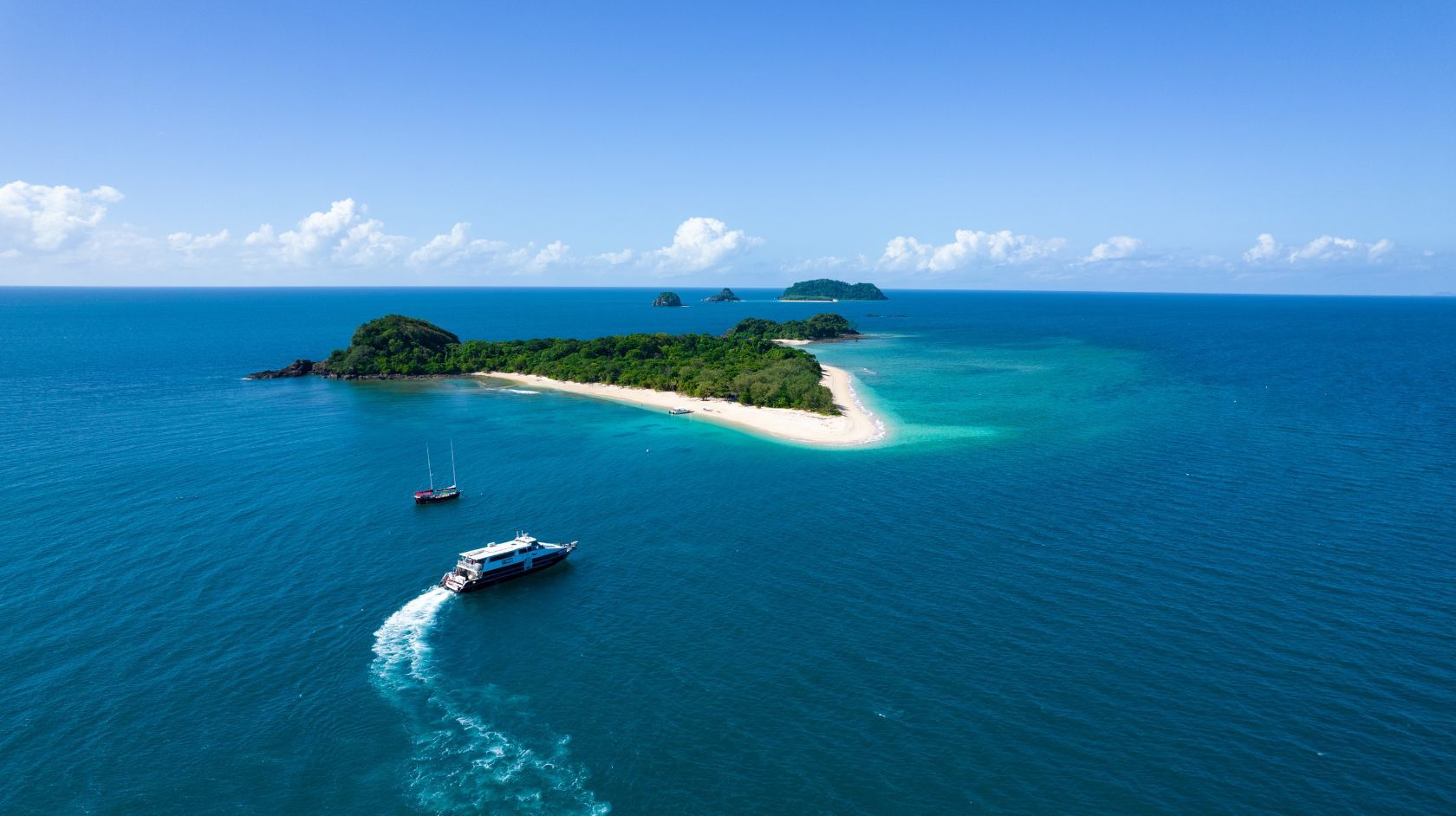 Credit to: Tourism and Events Queensland
How to get from Cairns to the Frankland Islands?
Frankland Island Reef Cruises is the only tour operator to visit the islands, so you are guaranteed an exclusive Great Barrier Reef experience. Head to Deeral, 45 minutes south of Cairns, and enjoy a cruise down Mulgrave River before taking the 30-minute journey to the island cluster.
Can I stay on the Frankland Islands?
True adventure lovers can camp on Russell and High Island, but an overnight stay is best reserved for the most self-sufficient campers, as the islands have no facilities available.
Michaelmas Cay
Michaelmas Cay is a small sand island located on the western tip of the mesmerising Michaelmas Reef. Located northeast of Cairns, the cay is a protected sea bird sanctuary with over 30 bird species from Sooty Terns to Silver Gulls, perfect for bird lovers and photographers. The 1.8-hectare island is also the ideal base for a day of snorkelling with calm, shallow waters and stunning coral gardens surrounding the cay.
How to get from Cairns to Michaelmas Cay?
Set sail from Cairns with Ocean Spirit Cruises, taking a 2-hour catamaran journey to Michaelmas Cay. Day trips include 4 hours of fun on the reef with morning and afternoon tea, lunch with prawns and a glass of bubbles on the journey home.
Credit to: Tourism and Events Queensland
Vlasoff Cay
If you have ever wanted to be stranded on a desert island, this would be the one. Vlasoff Cay is a picturesque sand bar located north of Green Island and 40km from Cairns. This secluded Coral Sea paradise is located on the outer reef, making it one of the best snorkelling or scuba diving spots.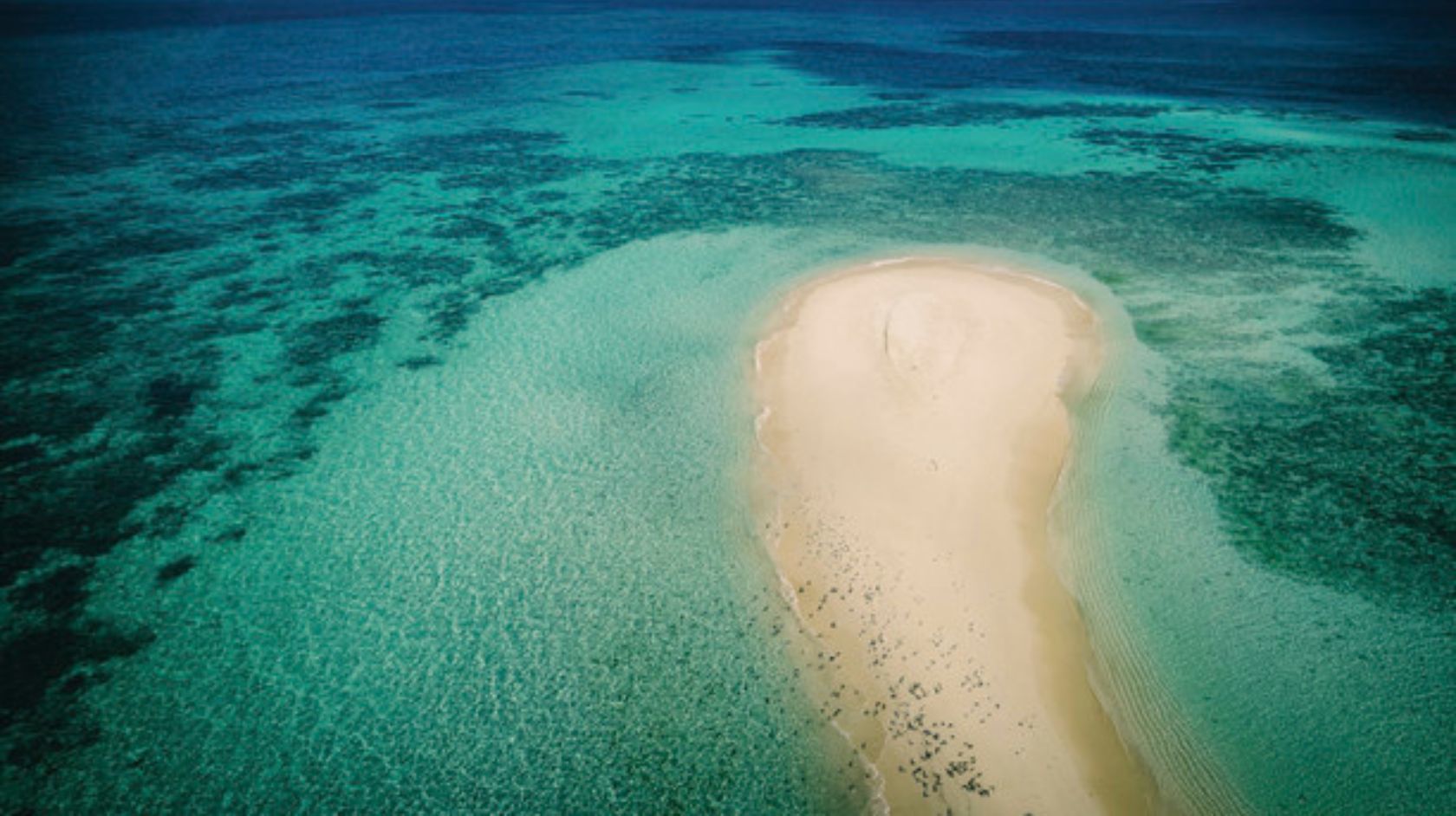 Credit to: Tourism and Events Queensland/Matt Glastonbury
How to get from Cairns to Vlasoff Cay?
Getting to Vlasoff Cay is a little challenging, but for a bucket list experience, the most popular way to travel is by helicopter. A roundtrip with Nautilus Aviation includes 40 minutes of scenic flying time, 2 hours on Vlassoff Cay, a gourmet picnic hamper, snorkelling equipment and more.
Accommodation in Cairns
Known as the gateway to the Great Barrier Reef, Cairns is the perfect base for your island exploration. Top of the list of places to stay in Cairns are Crystalbrook's collection of three luxury hotels and resorts. Modern, innovative and with an appreciation for the arts, Crystalbrook Bailey celebrates originality and individuality. Fun and energetic, Crystalbrook Flynn is a social butterfly - the natural life of the party. Just steps from the Esplanade boardwalk, feel like you're at the centre of the action. Or, live in the moment and indulge in the little luxuries at Crystalbrook Riley. Leave your worries at check-in and stake your claim by the pool.
While Crystalbrook Flynn, Crystalbrook Bailey and Crystalbrook Riley come with their own unique personalities, every hotel and resort offers luxury rooms and suites with city, harbour or stunning Coral sea views, signature bar and restaurant experiences, and a range of 5-star facilities.
Crystalbrook Flynn Hotel Deals
Crystalbrook Bailey Resort Deals