Byron Kombucha
Fizzy, sweet and slightly dry. A delicious sip for even the most discerning palate.
Packed with a bunch of health benefits, kombucha is a fermented, slightly alcoholic sweetened black or green tea drink.
Crystalbrook Byron likes to flavour with fruit, herbs and plants from its very own rainforest. Of course, if you don't have access to lemon myrtle or finger limes, regular lemongrass and limes will do as well.
If you're feeling a bit cheeky, we recommend tossing in a shot of Brookie's slow gin.
Byron Bay kombucha tea
Ingredients:
One kombucha scoby*
One cup kombucha starter liquid**
Two-three black tea bags*** (Crystalbrook Byron uses local Byron Bay Madura tea)
2/3 cup organic brown sugar
Two x 1L distilled water
Method:
Bring 1L water to boil in a large saucepan
Add sugar and tea bags to the water and stir until sugar is dissolved
Remove from heat and remove tea bags
Add second 1L of water and set aside to cool
Once cool, add tea, starter liquid and scoby into a clean glass vessel (we like to upcycle an old pickle or coffee jar)
Cover with a cloth (clean chux will do) and leave in a warm, ventilated area away from direct sunlight for seven-10 days
After seven days start tasting your kombucha. It should taste slightly acidic. Continue to let sit if you want for more acidic tea.
Decant your fresh kombucha tea (leaving some starter liquid for the next batch) into bottles and add fresh fruit, herbs or syrups (see below) to flavour.
* To make your own scoby, simply use the above tea, water and sugar recipe and add this to a cup of regular, plain kombucha from the store. Leave for three weeks and watch as your scoby grows from scratch in the tea mixture!
** The starter liquid will be the liquid your scoby grew in
*** Always use black or green tea as the caffeine is essential in 'feeding' the kombucha tea
Rainforest kombucha mocktail (or cocktail)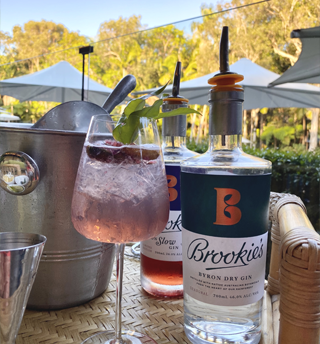 Ingredients:
750ml plain kombucha tea
50ml lemon myrtle simple syrup
Five lemon myrtle leaves
Finger lime, Angostura bitters, fresh mint to garnish
Method:
Pour 750ml plain kombucha tea into a 1L bottle
Add 50ml of premade lemon myrtle simple syrup (recipe below) or more if you like it super sweet. Make sure you leave at least 5cm gap of air at the top of the bottle
Carefully add all lemon myrtle leaves
Cap the bottle and leave in an area out of direct sunlight for two-three days. Don't forget to 'burp' your bottles every evening to release some of the Co2 and prevent any unwanted explosions
To make the mocktail, simply pour lemon myrtle kombucha into a tall glass of ice, top with finger lime, add a few drops of Angostura bitters, a sprig of mint and voila!
Spice it up and make it a cocktail with a healthy twist. Toss in a shot of Brookie's slow gin. Cheers
Lemon myrtle simple syrup
Ingredients:
One cup organic brown sugar
One cup distilled water
10-12 fresh lemon myrtle leaves
Method:
Bring water to boil and add lemon myrtle leaves
Simmer for five-minutes and add sugar
Continue simmering and stir until all sugar has dissolved
Cover and leave overnight to cool and for flavours to blend
Discard leaves, pour the syrup into a bottle and refrigerate