Explore the benefits of farming with your little ones at The Farm
Family Day Out at The Farm Byron Bay
Nestled in the picturesque hinterland of Byron Bay in Australia, The Farm is a unique and sustainable working farm that offers a one-of-a-kind farm-to-table experience for families. From feeding friendly farm animals to indulging in delicious organic food, The Farm is a perfect destination for families looking to connect with nature, learn about sustainable farming practices, and enjoy a day of wholesome family fun in Byron Bay. Join us as we take a tour around The Farm Byron Bay.
Byron Bay Farm Tours
Set on 80 acres of abundant farmland in Byron Bay; The Farm is home to a community of growers, producers, eateries, and educators passionate about growing food using sustainable and traditional methods, free of chemicals.
The Farm is home to fields of flowers and vegetables, heritage-breed pigs, Scottish Highland cattle and chickens, an on-site restaurant, cafe, produce store, garden shed and farmhouse. With so much to see and do, the best way to experience The Farm with the kids is on one of its unique tours.
The one-hour guided tour gives visitors a behind-the-scenes look at how The Farm operates and how it aims to grow, feed, educate and give back. Alternatively, The Farm's Land Rover Tour takes visitors on an hour-and-a-half trip around the farm, learning about sustainable farming, soil regeneration, and the paddock-to-plate journey.
The farm at Byron Bay also offers a daily trip to feed the sheep and chickens at 10:30 am, with private horseback tours and introductory pony rides for kids 3-8 years.
Kids Activities at The Farm, Byron Bay
A paradise for nature-loving kids—The Farm at Byron Bay offers a variety of programs and school holiday activities where kids can meet heritage black pigs, run amongst the chickens and learn all about organic farming, crops, healthy soil, composting and other ethical farming practices at this farm for kids.
The Farm hosts a range of Mini-Farmer Workshops where aspiring farm kids can get a true taste of farming life as they help with farm chores, foraging, cooking and creating natural products. Each 6-hour workshop is a unique interactive experience where kids can learn about growing healthy plants and vegetables, the importance of ladybugs, bees and worms, how to use herbs and plants for medicinal and culinary purposes, and how to repurpose old clothes.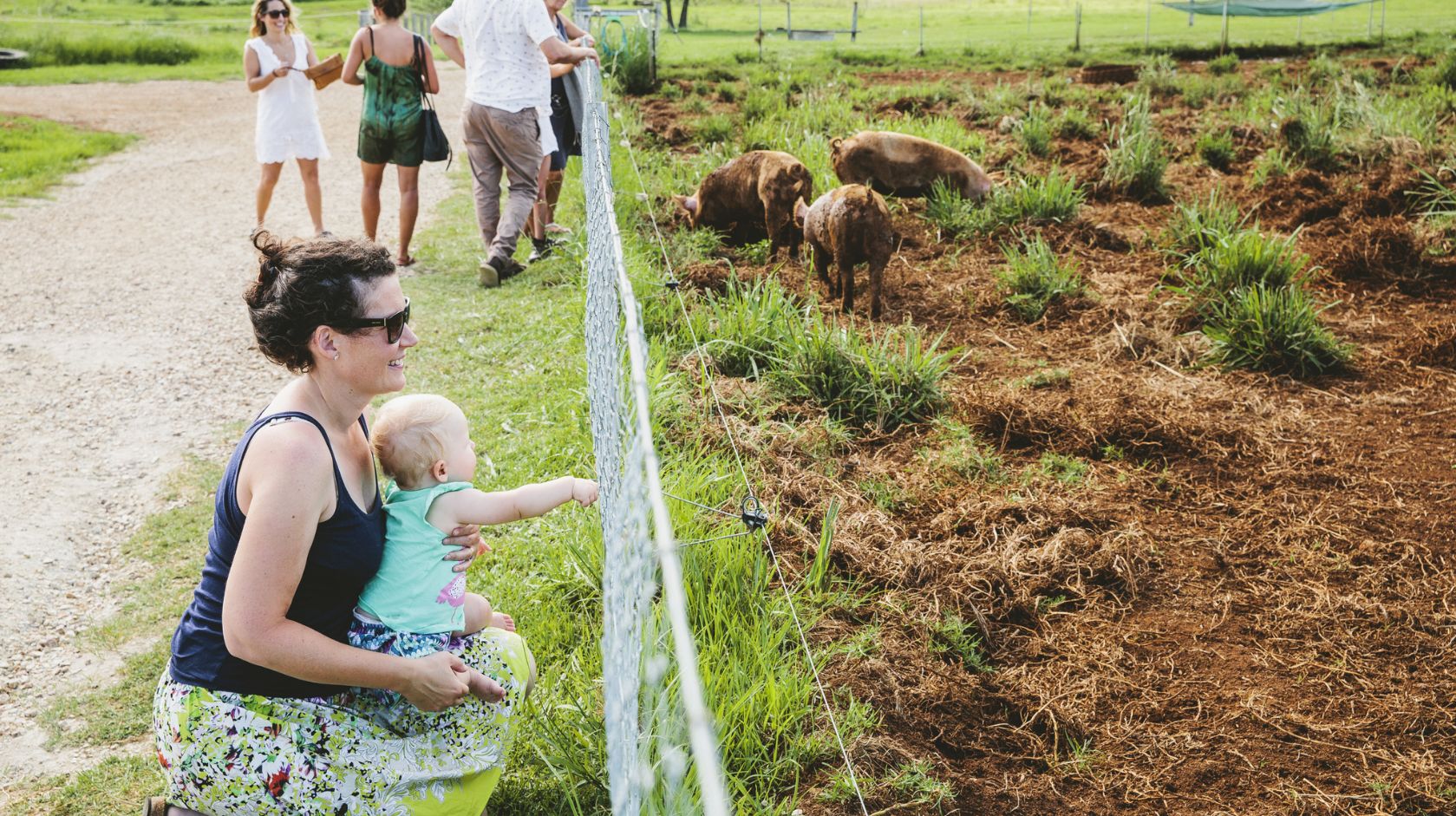 Image Credit: Destination NSW
Workshops include plenty of time for creativity and fun with kids creating their own beeswax candles, lip balm, soaps and bug sprays, planting seedlings in the Farm Kids garden, building bamboo bee houses and making their own butter, pesto, nut butter and beautiful flower collages.
Dining at The Farm, Byron Bay
The Farm is home to the famous Three Blue Ducks—a restaurant, cafe and produce store centred around nourishing the community with ethical, organic and high-quality produce sourced locally from southern Queensland to Port Macquarie.
Using the freshest seasonal ingredients from the region, Three Blue Ducks serves up a breakfast menu featuring classic avocado on freshly toasted sourdough, bacon and free-range fried egg panini rolls, red curry scramble and farm bowls with roasted and pickled vegetables and whipped chickpeas.
Lunch and dinner menus at The Farm Byron Bay again showcase the finest local produce with small plates of charred squid, freshly shucked oysters, farm pork terrines, and large plates featuring crispy skin barramundi, polenta gnocchi with pickled pumpkin, roasted eggplant, lamb rump and crisp salted potatoes. Behind the bar—a choice of 56 Australian craft beers on tap, with local wines, ciders and a wide range of cocktails.

Image Credit: Destination NSW
Three Blue Ducks also have a special 'Ducklings Menu' just for the kids, with homemade gelato, healthy smoothies, mini pancakes and more available at Baylato on The Farm.
Take a seat on the undercover outdoor patio with sweeping views of the Byron hinterland, or bring a rug, grab a picnic hamper filled with meats, cheeses, dips, bread and other local goodies, and enjoy a leisurely afternoon with the kids at The Farm.
Accommodation near The Farm, Byron Bay
Located a short 15-minute drive from The Farm, Crystalbrook Byron is the perfect base to explore the beauty of Byron Bay. Crystalbrook Byron is nestled within 45 acres of subtropical rainforest, with a range of luxurious Treetops and Rainforest Suites, deluxe facilities including Eléme Day Spa, a resort swimming pool with rainforest views, and signature dining experiences at Forest. Enjoy a day out at The Farm with the kids before returning to the ultimate rainforest retreat at Crystalbrook Byron.