Have a Car? Day Tripping from Cairns
Visiting Tropical North Queensland is a special experience for two very good reasons – the Great Barrier Reef and the Wet Tropics. Whilst Cairns is definitely the epicentre of all tropical city awesomeness, the outskirts are also truly special.
So, grab a car because here are our top tips for driving adventures in the north.
Food trails and waterfall circuits
While the Great Barrier Reef is an extraordinary thing indeed, don't get too distracted – the inland bits are pretty spiffy as well. The Atherton Tablelands is the perfect blend of rainforest, green rolling hills, quaint little villages, marketplaces, and is also well-known as the food bowl of the north. With spots like Gallo Cheese fulfilling all your cheese dreams (tip – try the Macadamia Cheese and your life will be changed forever) and Tarzali Smokehouse (smoked bacon and crocodile – enough said), you'll be guaranteed to have bellies and souls full to the brim. Following on with Mt Uncle Distillery (recent winner of Australian Whiskey Distillery of the Year) and Golden Drop Winery (making all the good drops out of tropical mangos), it's best you pack some of these treats into your luggage for holiday reminders. And that's just the beginning! There's ice creameries, locally made chocolates, the finest coffee growers in the land and good old-fashioned roadside stalls with local fruit and veggies for you to enjoy too.
Image Credit: Tourism and Events Queensland
The waterfall circuit
Waterfalls in Tropical North Queensland are in abundance, even when it's not quite the 'wet season'. In fact, just before the rains arrive is the best time to go waterfall chasing, Bear Grylls-style. The rocks are relatively dry and good for scampering up and to prevent grumpy hikers, you'll need to cool down once in a while. There's nothing quite as rewarding as finding a waterfall after a sweaty walk through the steamy rainforest.
The waterfall circuit on the Tablelands has that Fantasy Island quality. Five magnificent falls fringed by lush rainforest, giant palm fronds and vibrant tropical flowers make up the circuit, all accessible by car and foot. Milla Milla, Zilzie, Ellinjaa, Mungalli and Pepina make up the gang, with Milla Milla being one of the most Instagrammed waterfalls in Australia (and the home of a now infamous Herbal Essences commercial with plenty of hair flicking). And they're more than just a pretty face: the stream tumbles gently into a swimmable pool, filled with turquoise water and the odd platypus.
Image Credit: Tourism and Events Queensland
Life in the village - Kuranda
The bumper sticker catchphrase 'magic happens' was surely created after a visit to the picturesque village of Kuranda, a rainforest township where the outside world seemingly does not exist. Once upon a time, Kuranda was the place to be for paradise-seekers searching an alternative lifestyle, living commune-style amidst the artists and the dreamers.
These days, the Kuranda experience is a delightful and unique fusion of all that has gone before, renowned for its markets, lush surrounds and nature parks. Open-air market stalls sold locally grown produce and an abundance of handmade wares, while buskers and fortune-tellers entertain the crowds. Getting to and from Kuranda is part of the adventure, though. Jump aboard the Skyrail Rainforest Cableway which ascends of the rainforest canopy of the Barron Gorge National Park and return by the Kuranda Scenic Railway via deep ravines and picturesque waterfalls.
Image Credit: Tourism and Events Queensland
Resting beach face
So you've seen all those pictures in your feed with palm tree-lined beaches and stunning blue water for days… but where do you find them? Head north, friends. Just north of Cairns is Palm Cove, one of the first cabs off the Northern Beaches. This picture-perfect pocket of Tropical North Queensland has the hashtags #luxe, #tropicalescape, and #lifeinthetropics written all over it. The palm trees look like they were painted there, and there's a perfect little jetty at the northern end that looks directly at the beautiful Double Island. Perfect spot for sunsets and setting intentions.
A little further on via the extraordinary Great Barrier Reef Drive (who needs the Amalfi Coastline when you've got this?) is Port Douglas, better known as a little honeypot to the stars. Movies have been filmed here, stars like Tay-Tay, Kylie and Ed Sheerin regularly holiday here, and resort-wear isn't just a fashion choice, it's a religion. Packed with excellent bars and restaurants, boutique shopping, and is the gateway to the Daintree Rainforest, we definitely recommend putting this little village on your must-visit list.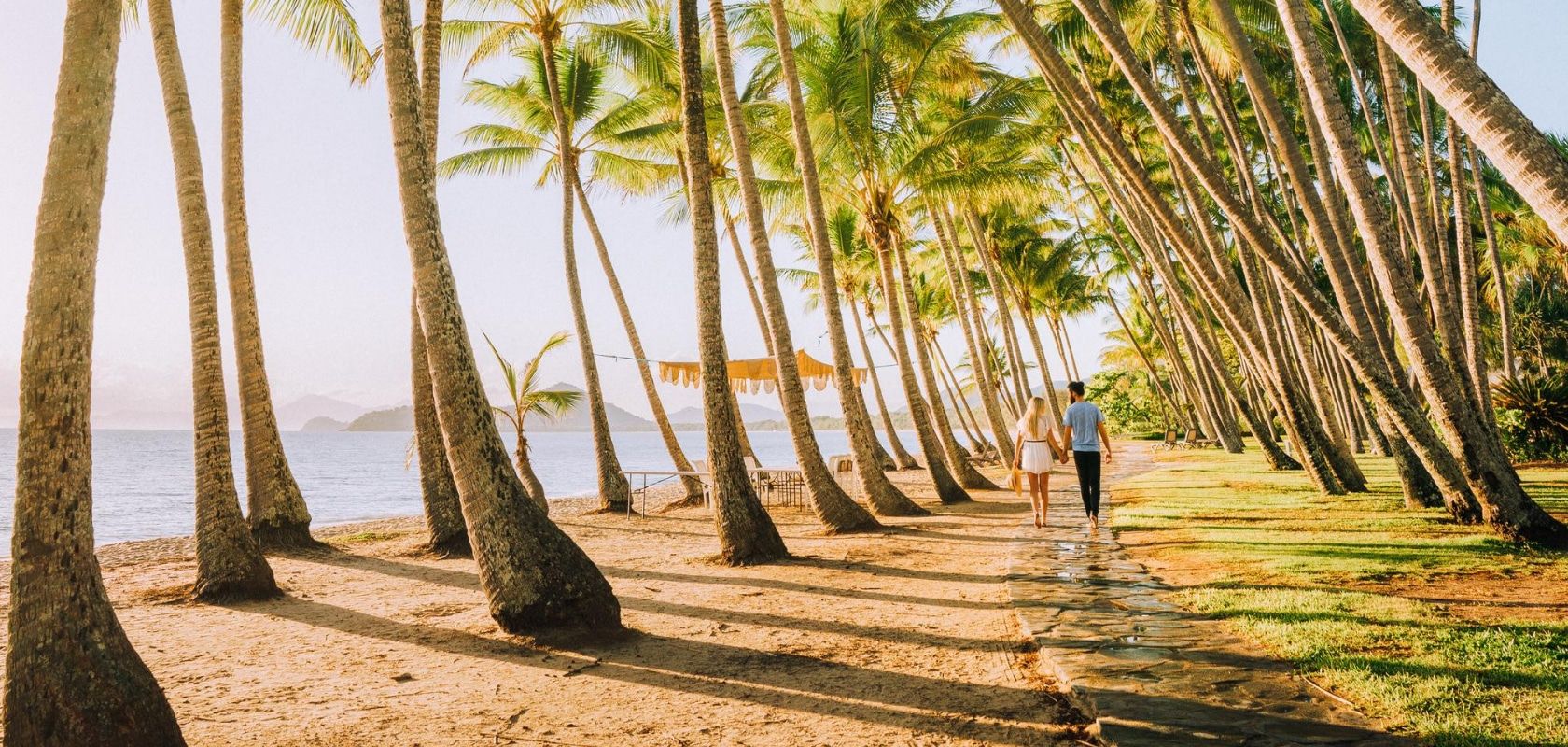 Image Credit: Tourism and Events Queensland
Getting one with nature
Want to see what life was like a million years ago? Beyond Port Douglas is the glorious Daintree Rainforest, the oldest continuing surviving rainforest in the world. With examples of plant species dating well beyond prehistoric times, the Daintree is a living, breathing snapshot of life in ancient times and cultures. You can choose your own adventure along the self-guided rainforest trails, breaking it up with refreshing dips in the crystal-clear swimming holes. But if you've never visited before, we recommend joining a guided Dreamtime Walk tour with a Kuku Yalanji traditional owner from the Mossman Gorge Centre.
Image Credit: Tourism and Events Queensland
What's your favourite day trip from Cairns?