9 Reasons Cairns is Perfect to Visit This Winter
Chase the Sun: A Guide to Winter 2023 in the Tropics
Tired of shivering under layers of blankets while winter tightens its icy grip?
Picture this: while your friends bundle up in cosy coats and wool scarves, you'll be soaking up the glowing sun's warm embrace in the tropics, where winter is just another excuse for endless summer fun.
With palm-fringed coastlines, lush rainforests, and the mesmerising Coral Sea beckoning, Cairns is a dreamy destination for those seeking respite from the winter chill. Here's why:
1. Rest, relax, reef
Cairns is your gateway to one of the world's most magnificent natural wonders: the Great Barrier Reef. Explore its kaleidoscopic underwater world, teeming with vibrant coral reefs and diverse marine life. Snorkel, scuba dive, or take a boat tour to discover the unparalleled beauty of this UNESCO World Heritage Site. The winter months offer calm waters and excellent visibility, providing the perfect conditions to experience the reef in all its glory.
2. Palm trees and pristine beaches
Cairns boasts idyllic tropical beaches that rival the world's best. Sink your toes into the soft sands of Palm Cove or Trinity Beach, where palm trees sway gently in the breeze. Enjoy a leisurely swim or try your hand at water sports like paddleboarding or kayaking. The milder months of May, June, July and August provide a comfortable temperature for beach activities without the intense heat of the summer months.
3. Bask in warmth, all year round
While winter tries to spread its icy tendrils throughout the lower southern hemisphere, Cairns basks in glorious temperatures of over 26 degrees Celsius (79 degrees Fahrenheit). Feel the sun's gentle rays on your skin and soak up the vitamin D as you relax poolside after a refreshing dip in the clear blue waters of Crystalbrook Flynn, Crystalbrook Bailey, or Crystalbrook Riley's glamorous hotel pools.
4. Immerse in festivals and events
Cairns hosts a vibrant calendar of events and festivals during June, July, August (and beyond). Don't miss the Cairns Indigenous Art Fair, where you can learn more about the diverse and rich First Nations' stories and culture through art, music, and dance. Enjoy live music at the Cairns Blues Festival or be captivated by the Cairns Festival, a month-long celebration of the city's arts and cultural scene. These events add an extra touch of excitement to your Cairns holiday. Have a keen sense of style? Enjoy a week on the runway at Cairns Fashion Week, the inaugural event arriving in Cairns in June 2023. From vibrant prints inspired by the Great Barrier Reef to flowing resort wear, the event showcases the unique blend of fashion and tropical flair on the runway at Crystalbrook Riley.
5. Make a date with the Daintree
Immerse yourself in the ancient wonders of the Daintree Rainforest, the oldest tropical rainforest on Earth. Just a short drive from Cairns, this UNESCO World Heritage-listed site offers breathtaking scenery, exotic flora and fauna, and a myriad of hiking trails. Lose yourself in nature's embrace as you explore Mossman Gorge, trek through lush trails, or take a scenic river cruise. The cooler winter months provide a pleasant climate for rainforest adventures.
6. Unleash your adventurous side
Cairns is an adventure lover's paradise. Experience heart-pounding thrills with activities like bungee jumping, skydiving, or ziplining through the rainforest canopy. Go white-water rafting on the thrilling Tully or Barron River, or embark on an ATV adventure through rugged terrain. The region's diverse landscapes offer countless opportunities for adrenaline-fueled experiences that will leave you with lifelong memories.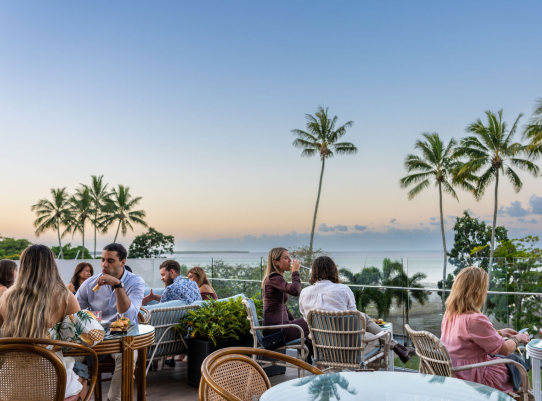 7. Discover vibrant city vibes
Cairns combines natural beauty with a vibrant city atmosphere. Explore the lively Esplanade, where you can stroll along the waterfront, browse local markets, and indulge in delicious seafood at waterfront restaurants. Discover the rich indigenous culture of the region through art galleries and cultural centres. If you're a food lover, Cairns offers a diverse culinary scene, with an abundance of fresh local produce. From the tallest bar in Cairns, Rocco, to award-winning fine dining at CC's Bar and Grill, Crystalbrook offers a collection of 9 restaurants and bars for diners to experience. Savvy diners enjoy 10% off when they join the Crystalbrook Crowd.
8. Cosy up to wildlife (crocodiles excluded)
Get up close and personal with unique Australian wildlife. Take a trip to the Cairns Zoom and Wildlife Dome, where you can cuddle a koala, hand-feed kangaroos, or witness awe-inspiring crocodile shows. Head to Hartley's Crocodile Adventures for a chance to see these prehistoric creatures in their natural habitat. From birdwatching to wildlife cruises, Cairns is a haven for nature enthusiasts.
9. (Do) go chasing waterfalls
Blessed with breathtaking waterfalls nestled within the lush rainforest, Cairns is an ideal springboard to explore Far North Queensland's natural wonders. Explore the enchanting Millaa Millaa Falls, famous for its picturesque beauty and the opportunity to swim in its refreshing pool. Marvel at the stunning cascades of Josephine Falls or venture another popular swimming spot Crystal Cascades, tucked away in the northern Cairns suburb of Redlynch. Tropical North locals know all the best spots for cooling off courtesy of Mother Nature, read more about swimming holes in Cairns here.
Don't let winter dictate your mood; seize the opportunity to chase the sun and create lifelong memories in Cairns. Get ready to immerse yourself in a world of unparalleled luxury.
Stay with Crystalbrook Collection Cairns
Meet Crystalbrook Riley, Crystalbrook Bailey and Crystalbrook Flynn - Tropical North Queensland's sustainable, luxury hotels and resorts located near the Cairns Esplanade. Explore our five-star hotels and resorts in Cairns or take a peek at our special offers and deals.
Like siblings, each hotel and resort share many similarities, but each is also unique and maintains its own personality. If you're looking for luxury accommodation and an unforgettable Cairns holiday filled with adventure and relaxation, Crystalbrook Collection in Cairns is the place for you.
Book Crystalbrook Flynn Book Crystalbrook Bailey Book Crystalbrook Riley
Join the Crystalbrook Crowd
As part of the Crystalbrook Crowd enjoy an instant 10% off your stays (plus a little extra during exclusive sales) when you book direct, as well as 10% off at our restaurants and bars.