Make Your Own Reed Diffuser
At Home With Crystalbrook
Fill the room with calm-inducing, mood-boosting scents from your new homemade reed diffuser with your favourite essential oils and fragrances.
Watch our step-by-step video and make yours with us!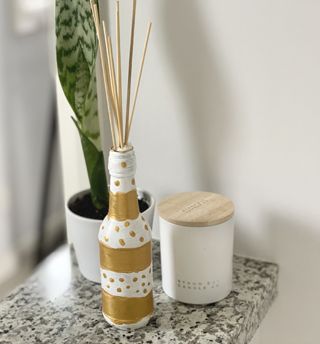 What you'll need:
Recycled glass bottle
Oil (like grapeseed)
Bamboo skewers
Poster paint
Craft glue
Paint container
Water jar
Paintbrush
Essential oils
What to do:
Get your bottle ready to paint. Use masking tape to create fun patterns.
Pour a bit of craft glue into an old container and mix your paint.
Now for the fun part, start painting! Get creative with different colours and patterns.
Once your bottle is dry, fill it half way with oil and add 15 drops of essential oil.
Add your baboo skewers, display and breathe in that sweet air!