Indulge in local fashion, art & produce at Newcastle Markets
Header Image Credit: Destination NSW
Newcastle is the ultimate weekend getaway destination, with its epic beaches, galleries, cultural landmarks and flourishing food scene. Not only that, but Newcastle is also famous for its farmer's markets and art and design fairs. With a prime seaside location, close proximity to the farms of the Hunter Valley and a booming cultural hub, Newcastle's markets are a celebration of the region's abundant local produce, artists and designers, who are all setting up shop at the city's best markets.
Take a tour of the city as we explore some of the best Newcastle markets.

Newcastle City Farmers Market
A stroll around Newcastle City Farmers Market is the perfect Sunday morning activity. Held most Sundays at the Newcastle Showground, this bustling market is home to a variety of stallholders, from boutique wineries to local farmers, producers and artisans.
Newcastle Farmers Market has been running since 2005 and is a favourite amongst locals and out-of-towners, drawing in thousands of visitors each week. Stock up on your weekly essentials with a selection of organic fruits and vegetables, Jersey cow milk, stone ground sourdough bread, jams and preserves, fresh pasta, and even Sydney Rock Oysters.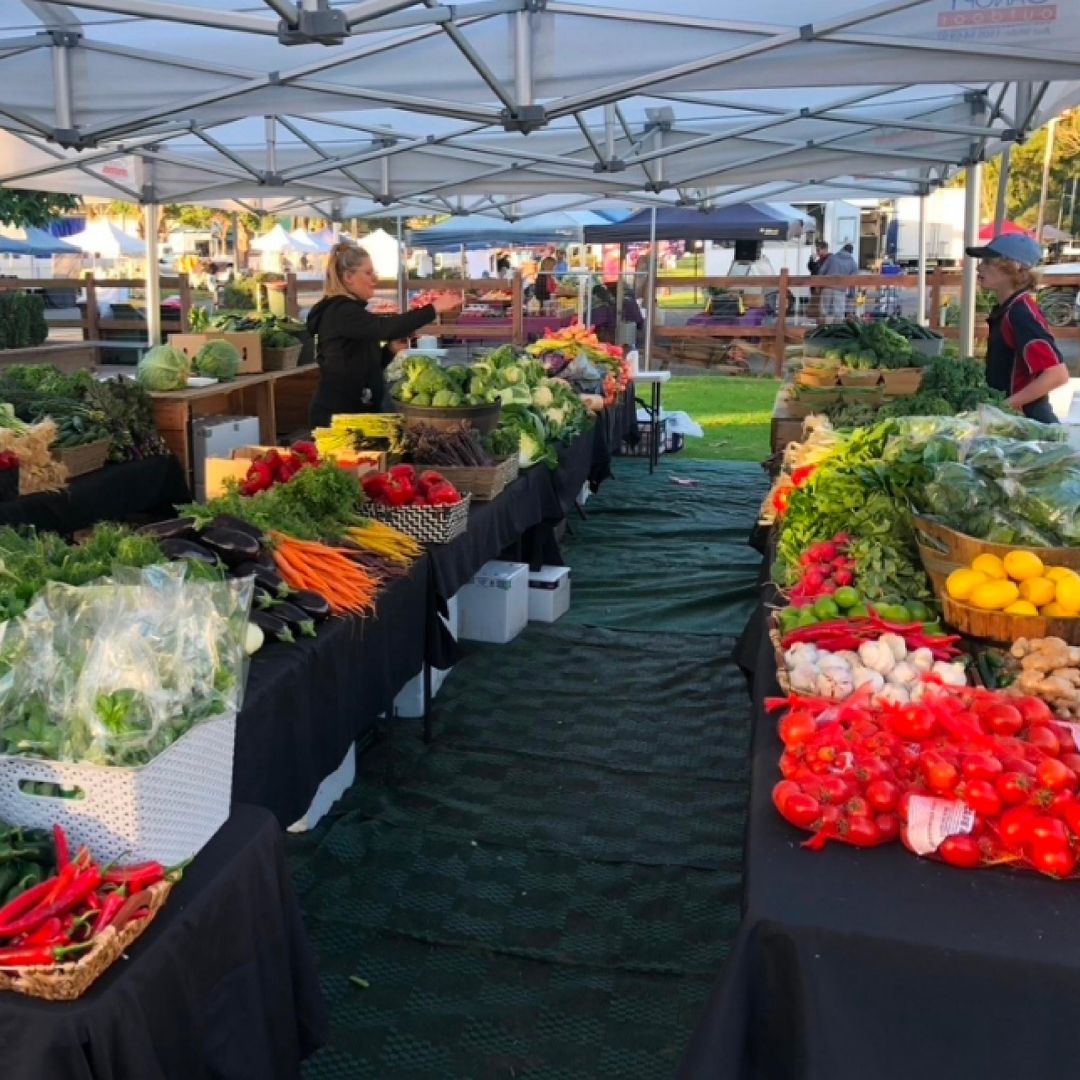 https://www.instagram.com/newcastlecityfarmersmarket/
Olive Tree Markets
Olive Tree Markets is Newcastle's premier art and design market, featuring over 130 of the best emerging and established artists, designers, makers, gourmet food producers, and delicious street food vendors.
The community-focused market is typically held on the first Saturday of each month at Civic Park, in the heart of Newcastle. Olive Tree Markets is loved for its fun festival atmosphere with live music and a delicious variety of food truck offerings, from fresh coffee and pancakes to wood-fired pizza and pho. Finding a unique gift is easy, from
locally crafted boutique gin and hand blended organic teas to beautifully glazed ceramics, detailed flora and fauna illustrations, handcrafted slow fashion, stunning swimwear, luxury hand-poured candles and artisan jewellery made from recycled metals.
https://www.instagram.com/olivetreemarket/

Homegrown Markets at Speers Point
Homegrown Markets at Speers Point Park are held on the first and third Sunday of every month, providing a thriving community space that supports small local businesses. The market, the largest in Lake Macquarie, is all about good vibes with live musicians, plenty of picnic spots and rows of exciting market stalls, in a beautiful setting overlooking the bay.
Explore an array of handmade, eco-friendly, and locally produced goods from over 120+ stalls with handmade baby clothes galore, eco-conscious skincare, local organic produce, healthy dog treats, ceramics, indigenous artwork, hand-crafted jewellery and more.

https://www.instagram.com/homegrownmarkets/
Homegrown Markets at The Station
The Homegrown Markets are also held on the first Saturday of each month at The Station in the heart of Newcastle. The vibrant market offers the perfect weekend activity, with a prime spot beside the harbour at the historic old train station.
Spend the morning or afternoon perusing the 100+ stalls selling eco-friendly gifts and locally-produced handmade goods, or grab a bite from the friendly food trucks, find a spot in the sunshine and enjoy live acoustic music by local performers. The market is a popular monthly gathering spot for the community and the perfect starting point for out-of-towners visiting Newcastle.
https://www.instagram.com/homegrownmarkets/

Newcastle Food & Flower Market
Located in Newcastle's Sandgate suburb, the Newcastle Food and Flower Market runs from Wednesday to Sunday each week and is the top spot to find locally-grown in-season blooms and plants.
This Newcastle market first began as a flower market but has since expanded, adding a built-in pantry, produce section and café, with dedicated food vendors bringing life to this popular community space. The market also holds regular workshops, from floral designing and plant-care tutorials to cooking demonstrations and bridal styling.



https://www.instagram.com/newcastleflowermarkets/
Handmade in the Hunter Markets
Handmade in the Hunter Markets, located an hours drive from Newcastle, offers the perfect excuse for a Saturday day trip. Held in the gardens of Sobels Wines in Pokolbin, this meet-the-maker market is a showcase of local talent with 60 stallholders selling handmade arts and crafts, jewellery and gems, clothing and accessories.
Given the location, you can expect some of the Hunter Valley's finest produce, with a selection of food stalls selling hot coffee and sweet treats, breakfast and BBQ takeaways, jams and honey, olive oil, sauces, salsas and much more. If all-day wine tasting isn't for you, Handmade in the Hunter Markets is the perfect place for foodies, treasure-seekers and lovers of seasonal produce.