Walk to art: Delve into Newcastle's burgeoning street art
A tattooed girl holding a rose catches you by surprise, a vintage inspired seaside scene transports you to the 1900s, while a wedding alter awaits Newcastle's most attractive couple.
The former Steel City is home to a burgeoning gallery of whimsical, edgy, old school and downright grungy street art. So, grab your camera and walk to art.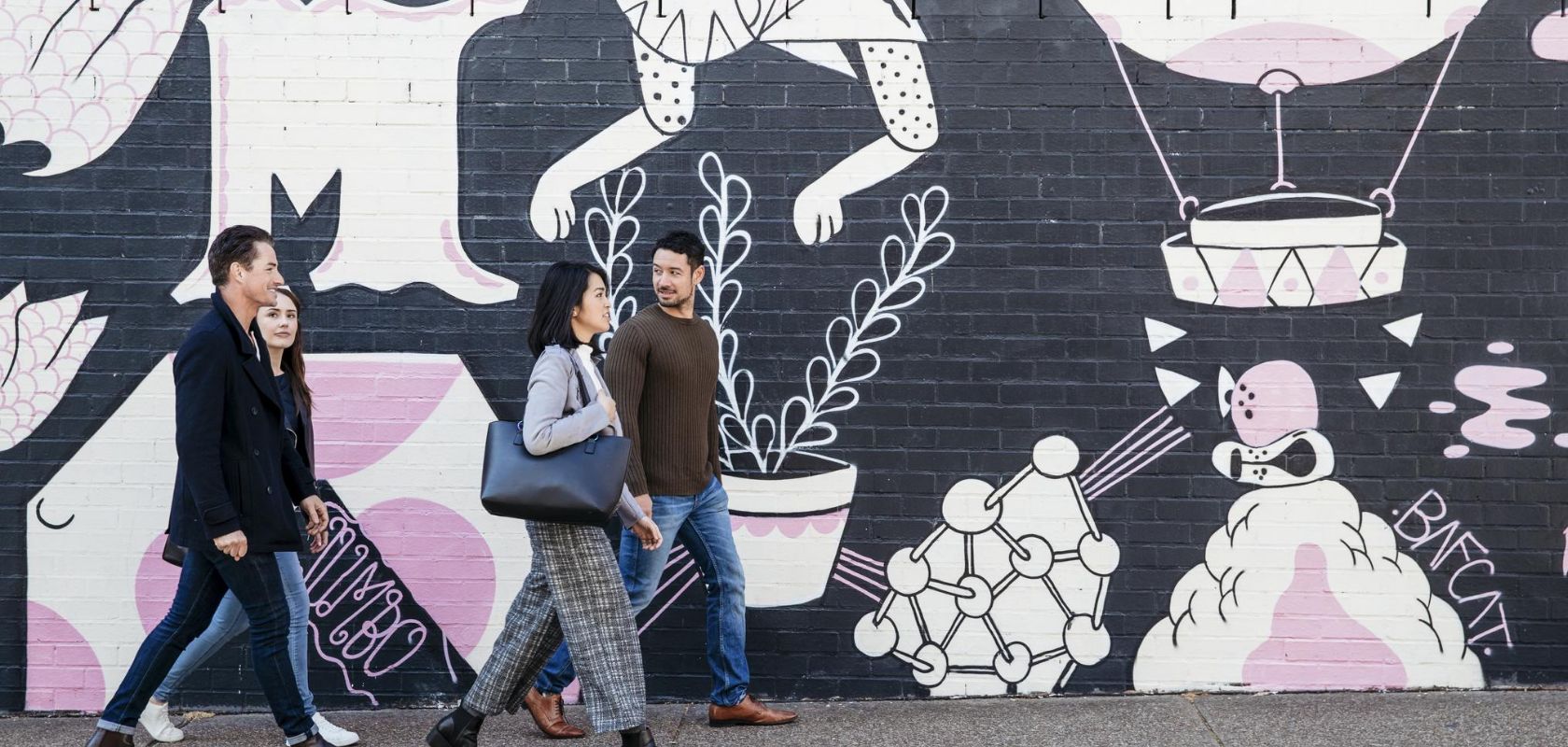 Image credit: Destination NSW
Tattooed girl, retro seaside scenes and goblin kings
Lying on Crystalbrook Kingsley's doorstep are several stunning new works from Newcastle's inaugural Big Picture Fest. Artist Inari Meyers' striking large scale portrait can be found on a large wall between NUspace and University House on Auckland Street. Cross Hunter Street for a mural depicting David Bowie as Jareth the Goblin King in the film Labyrinth by local artist Dan Prestage besides New Slang café. Back in Civic Square admire local mural artist Bronte Naylor's vintage inspired seaside scene 'Mirror Ocean', inspired by Herb Gallop's iconic painting of Nobbys Beach on display in the Civic Theatre. Head east down King Street for Nicolas Stuart, aka Olas One's, homage to Newcastle's graffiti history on the side of Foghorn Brewery.
Where: Civic Square, Newcastle University and King Street
Optical illusions, Newcastle's most attractive couple and seasoned sailors
Colorful and fun murals, illegal street art, stickers and paste ups are found in Civic Lane and the Evolve Housing Corridor behind the Newcastle Visitor Information Centre. Local artist Jordan Lucky's vivid new mural representing duality within spirituality is here. Walk towards the harbour and turn to admire Fintan Magee's awe inspiring large-scale Shadow at Museum Park. Just behind Newcastle Museum see local artist Mitch Revs' playful mural inspired by the quote 'Smooth Seas Never Made A Skilled Sailor' and other colourful works by Sophia Flegg and Tom Henderson.
No visit to Newcastle is complete without a selfie at Trevor Dickinson's famous interactive murals outside Newcastle Museum. The selfie wall includes a throne for the 'King of Newcastle', a wedding altar for 'Newcastle's most attractive couple' and an arrow pointing to the city's 'least attractive person'. On the harbourfront near the Harbourside Forum Gym is Askew One's large scale work of a women in purple and green.
Image credit: Destination NSW
Where: Museum Park and Honeysuckle
Green apples, botanical magic and Jolly Roger
Take a stroll up King Street and try not to smile at the whimsical 'Green Apples' by local artist Patricia Van Lubek on the corner of Union Street. Cross for another of Jordan Lucky's botanical-inspired works in a show stopping kaleidoscope palette. Round the corner for artists "Tun" and "Vans the Omega" ode to Jolly Roger and Newcastle's live music scene. On the opposite side of King Street is another collaborative large scale mural of two men's faces by Adnate and renowned street artist Numskull on the side of a car park. Head west for 'Hunted Hunter's Head' by Japanese street artist Hiroyasu Tsuri, aka TWOONE. On Hunter Street meanwhile you'll find a fish and bird abstract mural by renowned artists Tim Phibs and "Beastman" on the side wall of Balance Gym.
Where: King and Hunter Streets, Newcastle West
Want more?
Big Picture Fest is expected to return to Newcastle in 2022. Newcastle Afoot's new Newcastle Architecture, Street Art and Hidden Secrets Walk explores the city's most celebrated works guided by Big Picture Fest organiser Becky Kiil.
Top image credit: Destination NSW