Your guide to a must-do Brisbane day trip: North Stradbroke Island
North Stradbroke Island, fondly known as Straddie, is a must-visit destination for any Queensland holiday, with its white-sand beaches, vibrant wildlife, rich indigenous culture and unsurpassed natural beauty. Discover the true joys of nature with our day trip guide to North Stradbroke Island.
Things to do on North Stradbroke Island
North Stradbroke Island Tours
If you want to kick back island style and enjoy a stress-free day of fun on North Stradbroke Island, there are several day tours on offer. River to Bay offers a full-day tour departing from City Botanic Gardens, with lunch, one complimentary beverage, on-island transport, and local guides included. The tour captures North Stradbroke Island highlights, including the Koala Walk at Amity Point, North Gorge Walk and lunch at Cylinder Beach.
Cylinder Beach
Undoubtedly one of the most picturesque spots on the island, Cylinder Beach is an idyllic cove located between the Cylinder and Home Beach headlands. Known as the best swimming spot on the island, Cylinder Beach is a favourite amongst families with a white sandy beach, gentle waves and a shady foreshore reserve with picnic and camping areas, this beach is one of top family friendly things to do on North Stradbroke Island.
Image Credit: Tourism and Events Queensland
North Gorge Walk
North Gorge Walk is the island's most iconic headland walk and one of the best whale-watching points on Australia's east coast. The coastal track takes trekkers on a 1.2km boardwalk through some of the most spectacular scenery in Queensland, with views of the rugged coastline, crystal clear waters and abundant marine life from whales and dolphins to turtles and manta rays.
Another highlight is a unique rock formation known as the 'blow-hole' that spouts water like a whale when the tide is right. The walk, accessed from Mooloomba Road at Point Lookout, takes around 45 minutes and is the ideal nature walk, combining jagged headlands and natural bushlands.
Brown Lake
Brown Lake, otherwise known as Lake Bummiera, is a perched freshwater lake located east of Dunwich. The lake is lined with leaves from the nearby Paperbarks and Tea-trees that give it its unusual brown colour. This must-see island landmark is a popular swimming spot with still water ideal for paddleboarding, kayaking or basking in the sunshine in a floatation device. Brown Lake also has picnic and barbeque facilities, perfect for lazy lakeside afternoons with friends or family.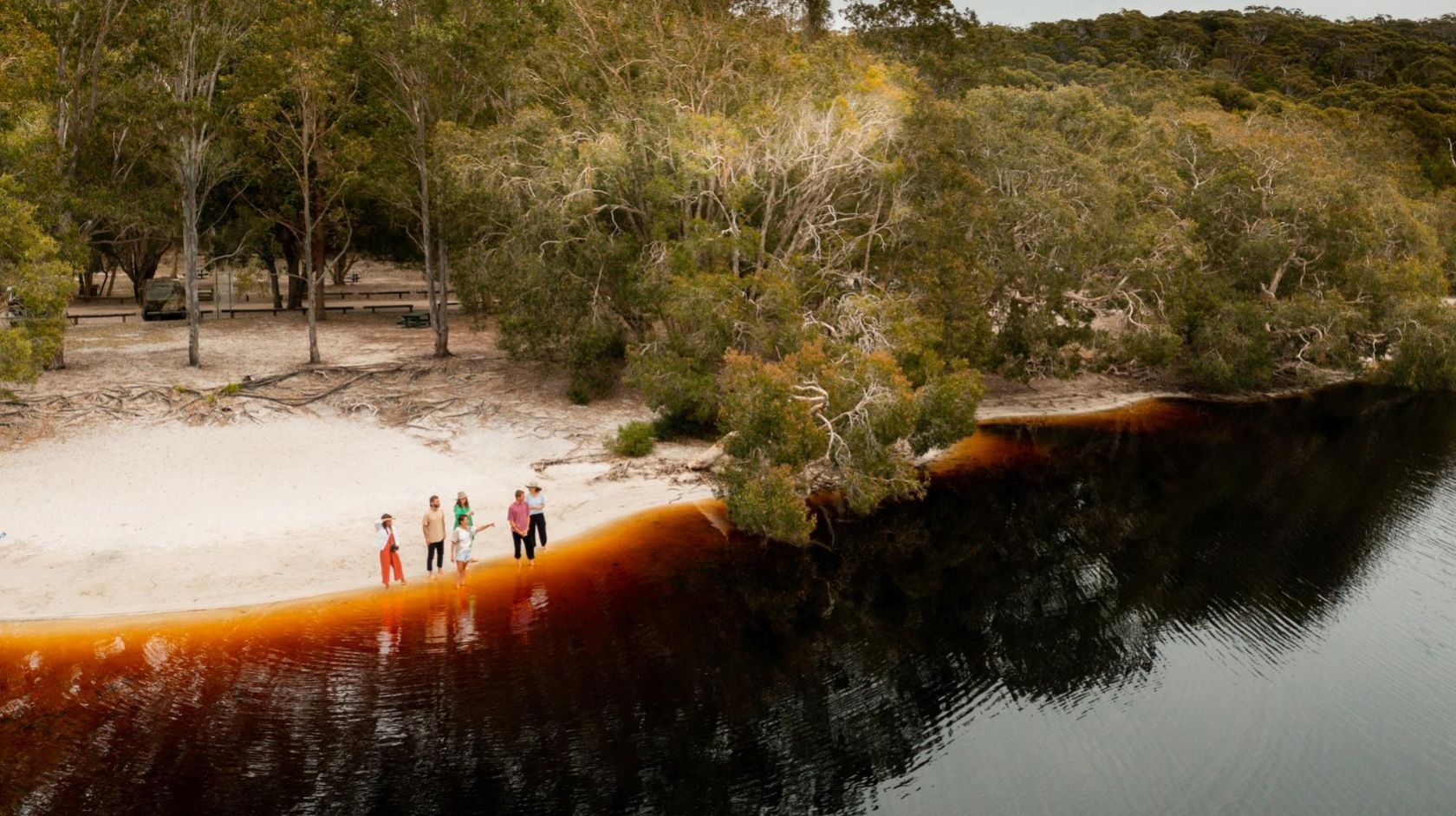 Image Credit: Tourism and Events Queensland
North Stradbroke Island Restaurants
Whether you're looking for a quick bite or a leisurely lunch, North Stradbroke Island has no shortage of cafes, bars and restaurants. Stylish Kokomo Beach House offers light seafood lunches, woodfired pizzas, and breathtaking sea views, while Sealevel21 at Amity Point serves up fresh island seafood with a cold beer or crisp glass of sparkling.
Breakfast or brunch is best served on the deck at Blue Room Cafe or The Barn Cafe, with takeaways available from Bo Beans Coffee or Loaves Bakery. And for laidback bites, Fins and Fries, the Prawn Shack, Oasis Mexican Cantina, Fishes at the Point or Stradbroke Island Beach Hotel will satisfy any lunchtime cravings. These North Stradbroke Island restaurants should not be missed.
Image Credit: Tourism and Events Queensland
How to get to North Stradbroke Island
Getting to North Stradbroke Island is easy, with multiple transport options available. Take a water taxi or ferry to Dunwich Terminal from Toondah Harbour in Cleveland, a 40-minute drive east of Brisbane. The North Stradbroke Island ferry transports passengers and cars for those looking to drive around the island.